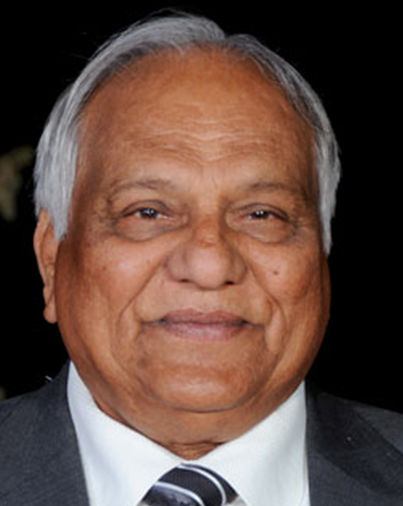 Chairman's Message
After passing away of our beloved founder Chairman, Late Shri Chinubhai Shah, I am given an opportunity to lead India Renal Foundation ( IRF) as a Chairman.
We at IRF along with your support will honour Late Shri Chinubhai's legacy & carry on the great philanthropic activities with the same momentum. I believe, that will truly be our homage to our founder Chairman.
India Renal Foundation is going from strength to strength since inception in 2002. I have been associated with IRF since 2003 as an Advisory Board Member of Ahmedabad chapter . All through these years, I have been a part of the journey of IRF.
I am very honoured to have been selected as a Chairman of this philanthropic organisation .We will continue our core activity of raising awareness more vigorously and reach out to needy patients.
We are contemplating to expand the scope of our services by way of providing basic facilities of measurement of Blood Pressure and Diabetes on the spot particularly in rural areas as it has been observed that such basic facilities are not easily available to the people in villages. It is well known that High BP and Diabetes are increasing day by day and in fact they are the major risk factors of chronic renal disease. This may require purchasing a Van and creating some basic infrastructure so as to meet the requirements.

I am willing to work together with all the Advisory Board members, fellow employees and volunteers to jointly strive for further expanding activities and reach every nook and corner of our nation to prevent this dreadful disease.
As we continue to achieve new milestones, I sincerely hope to receive your continued support .We will continue to update you on ongoing developments of the organisation with timeliness and transparency.
With warm regards,
Trilok Parikh
Chairman
Past Chairman's Message…..
Today after 16 years of my association with India Renal Foundation (IRF), emotions run riots and lot many thoughts and pictures come before the mind.
All along it has been a happy and satisfying journey with lot of good memories and happy experiences. When we started way back in 2002, we never dreamt that IRF would receive so much public response as it has been able to do over the years. Yes, there was a felt need. No significant work on prevention was being done in Gujarat and when IRF came on the stage, it has lot many opportunities to work towards fulfillment of its mission.
We started with the 'Awareness Program' which even today remain the main stay of our activities. Through this program, we educated and made aware the public at large about the diseases like blood pressure, Diabetes and kidney stone and how all of them have significant adverse impact on the functioning of the kidneys.
Corporate offices, clubs, social gatherings, schools, colleges, Rotary and Lions clubs, all of such institution were chosen to spread the message. We are satisfied that during 16 years, we have conducted awareness programs across Gujarat covering areas from Kutch – Saurashtra to South Gujarat and many small places of Gujarat. In order to facilitate Awareness Programs, the foundation also published booklets, posters and other literatures, organized rallies, interviews, T.V Programs and brought out kites, season's greetings and calendars.
In nutshell, prevention of kidney failure is our main goal and we will continue to work for the same more and more aggressively. In this cause we have been whole heartedly supported by good number of medical experts and physicians in general. They have willingly co-operated with IRF to share their knowledge and experience for the benefit of society at large. We gratefully acknowledge their support, guidance and participation.
The next in our line of activity was a program popularized as 'Save a Life'. We raised special resources to provide assistance and support to the members of the less fortunate sections of the society who could not afford the expenses of dialysis. We have so far supported more than 10000 dialysis.
As we marched ahead, we came to understand the problems of kidney patients. We realized that after becoming victim of kidney failure, they were mentally and financially under great stress and many of them lost interest in life. We thought that we should try to bring some purpose in their life and smile on their faces. Therefore, under the banner of IRF a new program was launched by the name 'Prerana' which also now systematically functions at all the six chapters for the rehabilitation of the kidney patients.
At a later stage, we decided that we should help and facilitate kidney transplant and we are doing our bit for the same also.
As it is known that kidney donation to unrelated person can only be made through Cadaver Transplants, there was a need to educate the citizens on the need for cadaver donation. We took up the challenge and launched a program titled 'Jivandaan'. Our volunteers and functionaries are regularly in the touch with the ICUs and wherever they come across a case of brain-dead person, they try to counsel and convince the relations of such a patients to donate his/her organs. We gradually received more and more response to our efforts and since the launch of the program we have been able to facilitate Cadaver Donations to 105 patients.
During all these years, we received very warm and spontaneous response from our corporate well wishers and other philanthropists. Gujarat is well known for its munificence and once it came to be known that an organization is doing good work and providing selfless services, all kinds of succor continue to flow from various quarters. We are grateful to all our donors and patrons who have supported us through all these years.
The foundation is fortunate in having association of leading citizens from all walks of life at all our chapters. All our advisory committee members are prominent and successful people in their own chosen areas of endeavor. However they always find time to support and guide IRF's activities and providing leadership whenever required. We are grateful to all of them and are proud of their association with our foundation.
Wish best wishes,
CHINUBHAI SHAH
Chairman